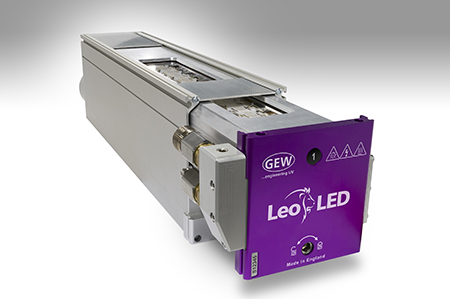 GEW (EC) Limited, England, a manufacturer of UV curing systems for the coating and converting industries, is set to launch its latest innovation, the LeoLED UV curing system.
In LeoLED, the technology has been redesigned and refined for simplicity while at the same time delivering maximum power and dose of UV energy. The LeoLED cassette is fully compatible with GEW's ArcLED hybrid system and brings LED UV within affordable reach for all.
The leading-edge design of LeoLED brings several new benefits: The 50mm width window gives a long dwell time and is waterproof-sealed for easy cleaning. It is also resilient to dust and ink ingress. The LED array delivers electrical power at 88W/cm and an intensity of 25W/cm2, with minimal light loss due to the direct UV path. Furthermore, the integral water-cooling system gives LeoLED high operating capability and reliability.
The new lamphead is built to GEW's exacting standards, using state-of-the-art manufacturing techniques, for robust performance and reliability. It is also offered in an alternative, more compact configuration for very confined spaces, and for sheetfed offset presses. All formats can be easily retrofitted to almost any press and are available with a 5-year GEW system warranty.
The LeoLED system employs ArcLED hybrid UV technology, which allows the use of a conventional UV arc lamp or LED array on the same print unit. Both arc and LED cassettes are compatible with the same power supply and fit in the same housing for ease of change. GEW's RHINO control enables any combination of curing technologies to be used on the same press. ArcLED enables the printer to switch between arc and LED UV curing at will, to suit process requirements and ink formulation.
For more information, visit www.gewuv.com.