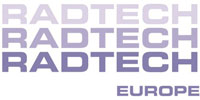 RadTech Europe, the Netherlands-based European association for UV- and EB-curing technology, is welcoming papers for the 2019 RadTech Europe Conference and Exhibition, scheduled for Oct. 15-16, 2019, in Munich, Germany. The deadline for submission of titles and abstracts is March 14.
The conference program committee will select presentations based on scientific significance and potential value to the industry. The best paper will be awarded the prestigious Paul Dufour Award 2019.
Conference Chair Dawn Skinner comments: "Our event brings together the entire radiation curing industry, from raw material suppliers and equipment manufacturers to end users. We will focus on the latest innovations, applications and trends in radiation curing, as well as relevant legislation."
For information on submitting abstracts and the event, visit www.radtech2019.com.