RadTech Announces New President and Board Members
RadTech, the nonprofit trade association for ultraviolet and electron beam technologies, is pleased to welcome Eileen Weber of Red Spot Paint & Varnish Co., Inc. as its new president, serving a two-year term. She assumes the position from Lisa Fine, who will serve as immediate past president. JoAnn Arceneaux, allnex USA, is the new president-elect.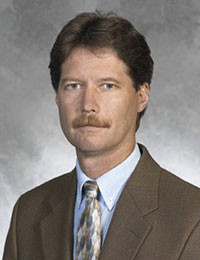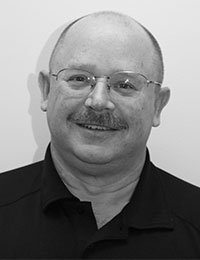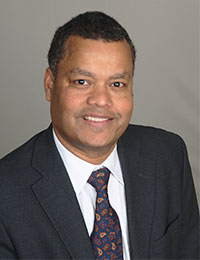 Newly elected board members include Jeffrey Klang, Sartomer; Jim Raymont, EIT LLC.; and P.K. Swain, Heraeus Noblelight America. Board members elected for a second term include: Susan Bailey, Michelman; Michael Gould, RAHN USA; David Biro, Sun Chemical; and Chris Seubert, Ford Motor Company. Returning board members include: Jennifer Heathcote; Paul Elias, Miwon North America; Mike Bonner, Saint Clair Systems; Todd Fayne, Pepsico; Mark Gordon, INX International Ink; George McGill, Precision Ink; Hui Yang, Procter and Gamble; and Sunny Ye, 3M. The new RadTech Board of Directors will be welcomed at the upcoming BIG IDEAS Conference, March 19 and 20 in Redondo Beach, California.
BIG IDEAS Coming March 19-20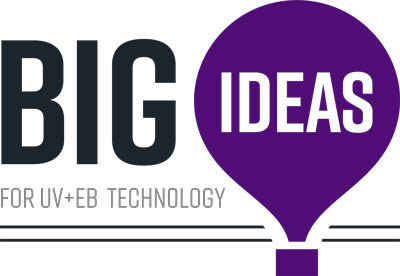 The BIG IDEAS for UV+EB Technology Conference – featuring updates on 3D printing, automotive, UV LED and more – is set for March 19 and 20 at the Crowne Plaza, Redondo Beach, California.
A general "Big Ideas" session will focus on new applications and enabling technologies in areas such as material development, composites, energy storage, low-migration packaging and PVC chrome replacement. The schedule includes concurrent conference sessions, a tabletop exhibition, reception and some 30 exhibitors, as well as the RadTech Annual Winter Meeting. Tracks are planned for attendees interested in additive manufacturing, UV in horticulture, data-driven materials, UV for food and beverage safety, and emerging technologies. Speakers will include representatives from Carbon, Voxel8, Ford and more. Rita Loof, environmental director for RadTech, also will give a special presentation on how UV/EB technology has recently been named a Best Available Control Technology (BACT) in California.
Early registration continues through March 8, and on-site registration is available from March 9 through the conference. Those registered for BIG IDEAS need not register separately for the Annual Winter Meeting, but Winter Meeting registration does not grant admission to BIG IDEAS. For more information, see pages 16-17 of this issue or visit www.bigideasconference.com.
RadTech Announces 2019 RadLaunch Class
RadTech International North America has announced the 2019 RadLaunch Class. Each of the RadLauch innovators will speak in a special session at the BIG IDEAS for UV+EB Technology Conference, taking place March 19 and 20, 2019, at Redondo Beach, California. RadLaunch is a unique idea accelerator for UV/EB start-ups, students and innovators where selected companies are connected to UV/EB industry leaders through funding, guidance and speaking/exhibiting opportunities. The companies selected to the 2019 RadLaunch Class are as follows:
SUNY Albany, SUNY Polytechnic Institute – UV/EB curable Sulfluor – a fluorinated hypervalent sulfur containing polymer cured thin film, which is extremely hard, thermally robust, and patterns well – may find utility protecting sensor windows, displays, optical fibers, composite material surfaces, electronic devices and other surfaces where scratch resistance, chemical stability and hydrophobicity are important.
Laval University (Quebec City, Quebec, Canada) within the Forestry Geomatic and Geography Faculty in the Wood and Forest Science Department – Enhances hardness of Canadian hardwood through impregnation of acrylate monomers and electron beam polymerization.
Origin – Building an open material partner network to power innovation in materials for end use and made through additive mass production. Origin's production system uses programmable photopolymerization (P3) to turn materials into isotropic parts and products ready for end use.
MicroMaker3D – A new 3D printer for making the unimaginably small, enabling microfabrication-level rapid prototyping for microsensors, wearable technology, IoT devices, micro-robotics, aerospace applications and more.
Ares Materials – Pylux polysulfide thermosets, a class of transparent, optically clear polymeric materials that allow for tuning physical properties to produce materials that tackle multiple applications, specifically engineered for the fast-growing flexible display markets – smartphone makers, displays and display-related fabrication equipment.
Daetec, LLC – Protective encapsulant and sealing on-substrate, rapid cure for automotive assembly. Polymer compositing with reactive diluents makes it possible to use CAD fed delivery tools that offer cure on contact, with robotic operated equipment on vertical, overhead or irregular surface contours.
Learn more about the RadLaunch presentations to be given at the BIG IDEAS for UV+EB Technology Conference at www.bigideasconference.com.
Support Group Begins Initiative, Seeks Team Members
The RadTech Application Support Group is starting a new member-driven initiative to offer technical assistance to end users who may have a question or challenge where UV/EB could help and to promote UV/EB end-user case studies. As the use of UV/ EB processes continues to grow and new applications arise – with traditional manufacturing firms customizing their equipment for these fast-emerging technologies – crucial product and service providers in areas such as fluid delivery, robotics, application equipment, conveyance, controls, testing, inspection, systems integration, and health and safety are increasingly finding their customers moving to UV and EB platforms. The Application Support Group is there to advise and support such customers.
RadTech is seeking recruits for the Application Support Response Team. Members of this team will field questions and inquiries from end users. Please contact RadTech or the chair of the Application Support Group, Mike Bonner, at [email protected].
End-User Case Studies Being Collected
Can your company provide any UV/EB end-user case studies – published or unpublished? RadTech will post them on a special microsite within RadTech.org and will actively promote the site through email blasts and social channels (Twitter and LinkedIn). Send your case studies to [email protected].
Photopolymerization Fundamentals Conference Set for September
Academic or industrial participants in the field of photopolymerization are invited to attend the premier scientific conference for the photopolymerization industry, Photopolymerization Fundamentals 2019. The conference is set for September 14 through 18 at the Monterey Plaza Hotel & Spa, Monterey, California. Highlights of the meeting include presentations on a wide range of photopolymerization topics; an open atmosphere, where interaction and technical networking are encouraged; a poster session and vendor exhibit; and a poster competition/award sponsored by the journal Polymer Chemistry.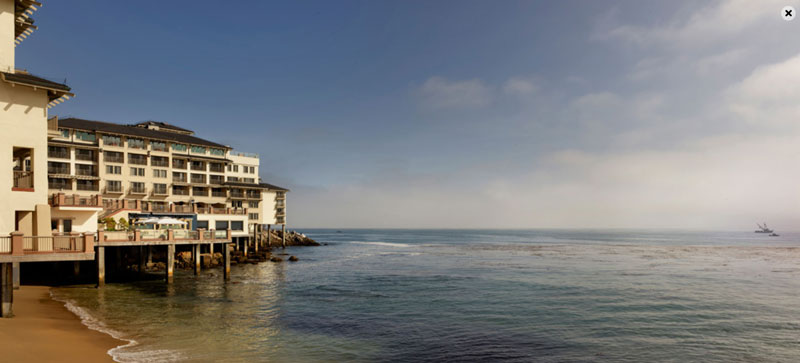 The meeting includes a short course with a series of four presentations from leaders in the photopolymerization field as well as a tabletop vendor exhibit concurrent with the poster sessions. Vendors already committed include IGM Resins, FlackTek, National Polymer, allnex, Sartomer, Heraeus Noblelight and Colorado Photopolymer Solutions.
Abstract submissions opened February 1, and early registration deadline is June 30. Reduced rates for students are available. The conference is presented by RadTech – The Association for UV & EB Technology and Colorado Photopolymer Solutions (CPS). Conference chair is Professor Chris Bowman from the University of Colorado Boulder. For more information, contact Neil Cramer at [email protected] or visit http://radtechintl.org/ Photopolymer2019.
RadTech EHS Committee Forms New Subcommittees
More than 50 members attended last fall's RadTech EHS Committee meeting, where four new subcommittees were formed:
Best Practices for Successful Regulatory Registrations, with a goal of exchanging information and developing a guideline document of lessons learned on submissions of premanufacture notifications (PMNs) and low-volume exemptions (LVEs).
Acrylate Respiratory Monitoring, to engage EPA questions about exposure.
Food Packaging, to compile and reconcile guidance documents (such as those by Nestle, General Mills, Wrigley, etc.)
Prop 65, to ensure it remains on the radar in the event of future concerns.
Members are encouraged to join relevant subcommittees. Also at the meeting, EHS chair Michael Gould of RAHN announced that chemist Marcy Gainey – a Toxic Substances Control Act (TSCA) expert – is working with RadTech as a resource to help respond to regulatory issues.
Webinar Focused on UV-Based Interventions to Enhance Produce Safety
Nearly 200 registrants participated in a mid-January webinar, "New UV-Based Interventions to Enhance the Food Safety of Fresh Produce," jointly presented by RadTech and the International Ultraviolet Association. Presenters were internationally recognized experts on food safety Keith Warriner, University of Guelph, and Tatiana Koutchma, research scientist with Agriculture and Agrifood Canada, both based in Guelph, Ontario. The webinar outlined recent large-scale food contamination events, including three outbreaks of Escherichia coli O157:H7 infections linked to contaminated romaine lettuce. To date, the main interventions used to enhance the microbiological safety of fresh produce are good agricultural practice (GAP), testing and postharvest washing. None, however, has been proven effective in preventing foodborne illness outbreaks. More effective treatments are needed – and UV treatment of irrigation water, as well as water-assisted UV postharvest washing – show promise. The webinar was produced in partnership with the State University of New York (SUNY) College of Environmental Science and Forestry. It is archived and available for viewing at https://www.esf.edu/openacademy/uvebwebinar/.
Note: Keith Warriner and Tatiana Koutchma also are scheduled as presenters at an extensive program on food and beverage disinfection at BIG IDEAS for UV+EB, March 19 and 20 in Redondo Beach, California. For more information, visit www.radtech.org.