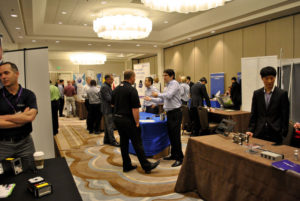 RadTech International North America hosted more than 300 participants for the BIG IDEAS for UV+EB Technology Conference, held March 19 and 20 at the Crowne Plaza, Redondo Beach, California. Nearly 70% of event attendees were new registrants – indicating growing interest in the use of curing technologies for 3D printing, food and beverage, automotive and more.
Program sets the stage for further innovation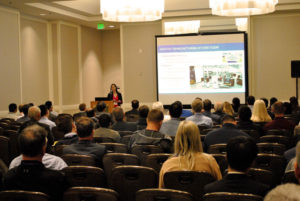 Over the course of a day and a half, 49 topics were presented to an eager audience. Tracks divided the sessions by topics that included additive manufacturing, UV in horticulture, data-driven materials, UV for food and beverage safety, and emerging technologies. Presenters included Jason Roland from Carbon, Tim Luong from Ceredrop, Dr. Ellen Lee from Ford Motor Company, Dr. Darryl Boyd from the US Naval Research Lab and Callie Higgins from NIST, among many others.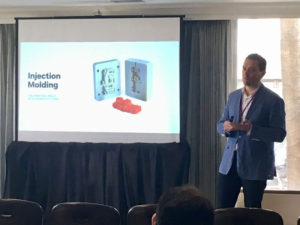 With an emphasis on innovation, sessions focused on new material development for 3D printing; faster and production-capable additive manufacturing; UV disinfection technologies; photoinitiator choices; and equipment advances in electron beam curing. The regulatory environment for curing technologies also was addressed by RadTech's Rita Loof.
Attendees now can download the event proceedings at www.bigideasconference.com.
2019 RadLaunch class featured in special session
RadLaunch is a unique idea accelerator where students, innovators and UV/EB startups are connected to industry leaders through funding, guidance and speaking/exhibiting opportunities. Members of the 2019 RadLaunch class presented during a special session at the BIG IDEAS Conference, bringing their innovative concepts to a larger audience. Presenters included the following:
SUNY Albany, SUNY Polytechnic Institute: UV-/EB-curable Sulfluor, a fluorinated hypervalent sulfur containing polymer cured thin film, is extremely hard, thermally robust and patterns well. It may find utility protecting sensor windows, displays, optical fibers, composite material surfaces, electronic devices and other surfaces where scratch resistance, chemical stability and hydrophobicity are important.
Laval University (Quebec City, Quebec, Canada) within the Forestry Geomatic and Geography Faculty in the Wood and Forest Science Department: Enhances hardness of Canadian hardwood through impregnation of acrylate monomers and electron beam polymerization.
Origin: Building an open material partner network to power innovation in materials for end use and made through additive mass production. Origin's BIG IDEAS Bring 300 Attendees to Redondo Beach production system uses programmable photopolymerization (P3) to turn materials into isotropic parts and products ready for end use.
MicroMaker3D: A new 3D printer for making the unimaginably small, enabling microfabrication-level rapid prototyping for microsensors, wearable technology, IoT devices, micro-robotics, aerospace applications and more.
Ares Materials: Pylux Polysulfide thermosets – a class of transparent, optically-clear polymeric materials that allow for tuning physical properties to produce materials which tackle multiple applications – are specifically engineered for the fast-growing flexible display markets, such as smartphone makers, displays and display-related fabrication equipment.
Daetec, LLC: Protective encapsulant and sealing on substrate, rapid cure for automotive assembly. Polymer compositing with reactive diluents makes it possible to use CAD-fed delivery tools that offer cure on contact, with robotic-operated equipment on vertical, overhead or irregular surface contours.
Volunteers recognized for dedication to industry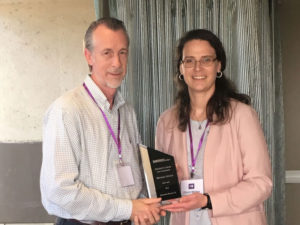 RadTech's winter meeting was held immediately following the final session of the BIG IDEAS Conference. In addition to the regularly scheduled committee meetings, two volunteers were honored for their years of service and dedication to the UV and EB curing industries. The RadTech President's Award for outstanding leadership and volunteerism was presented Michael Gould of Rahn USA; with Doug DeLong of Doctor UV receiving an appreciation award for his leadership in RadTech efforts on the West Coast.