By Jim Raymont, EIT LLC
Ever dream of being in a rock band? Still playing the air guitar and singing in the shower? As a trumpet player who was unable to sing, the closest I came to rock stardom was an aunt in the 1960s girl group, The Secrets (http://www.spectropop.com/gg/secrets.html). They managed to get a few songs on the radio and, at the "peak" of their brief run, had a new group – called The Supremes – open for them. The two groups went in two vastly different directions after that.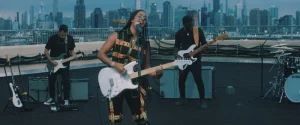 Fifty years later, INPRO Technologies of Frederick, Maryland, organized and led a "UV Band" of equipment suppliers, UV suppliers (sources, coatings, measurement), integrators and even a regulatory specialist to help Fender Musical Instruments Corporation add UV curing to one of its processes. Growing up, I listened to Eric Clapton, Chrissie Hynde, Stevie Ray Vaughan, Jimi Hendrix, Buddy Holly, Jeff Beck, Ritchie Blackmore, David Gilmour, Nile Rodgers and George Harrison play their Fender guitars. Today, Ben Gibbard, Chris Stapleton, H.E.R., Billie Eilish, Ashley McBryde, Jason Isbell, Noel Gallagher, Blink 182 and Mike McCready use Fender guitars to share their music. 
Fender's existing thermal process for the base coat on its guitar bodies involved a solvent-based coating, which required a solvent flash off, followed by a 24-hour air cure. The long air cure required a lot of floor space and was a production bottleneck.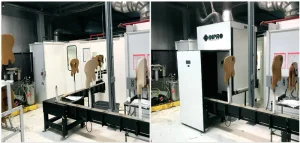 The building of a Fender guitar is a tradition carried out by a highly skilled luthiers, who are supplied key components by a myriad of production processes. Much like a well-rehearsed band, these processes must work together in perfect unison without bottlenecks. Fender looked to UV as an option on the guitar body base coat to reduce work in progress (WIP) and save space/money. Fender requirements were very specific in terms of coating performance and costs. Any UV solution had to be thoroughly tested and validated before being approved. 
INPRO proposed a turnkey solution: INPRO would coordinate with all suppliers and perform the integration, delivery and installation of the system. Time was a major project challenge because Fender wanted the transition to UV to be made during the next maintenance shutdown. All equipment would need to be secured, integrated and ready to quickly be installed and tested. COVID-19 added additional challenges, with longer supplier lead times, travel restrictions and in-plant safety protocols.
The formulator's proposed coating was tested on flat panels in INPRO's lab to ensure it met Fender's requirements. Moving from curing on a flat panel to a dimensional guitar body also required testing in INPRO's lab to find a production solution. 
Theory vs. reality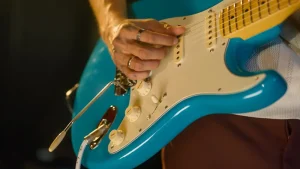 INPRO simulated the proposed full-scale process in its lab with six Heraeus microwave-powered lamps in different combinations and arrangements. EIT radiometers were strapped to various locations on the guitar to measure the irradiance and energy levels achieved with a given lamp configuration. This testing was iterated until all the points of interest on the guitar were given the minimum irradiance and energy levels necessary, and the resulting configuration of UV sources became the design baseline.
Based on the testing, INPRO developed a production solution that uses a total of 16 Heraeus microwave systems. The lamp arrangement allows the correct amount of UV to cover the entire guitar body in one pass through the chamber. 
Process intelligence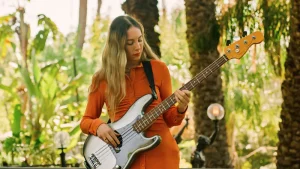 Fender wanted a way to monitor UV levels in real time to ensure that maintenance personnel could perform any adjustments needed without losing production time. EIT's Compact Sensors provided a way of measuring relative intensity and were well suited to this task. INPRO added a Compact Sensor at each lamp location in the array. To mitigate "cross talk" to the Compact Sensor from opposing lamps, INPRO developed a selective light probe that enables each Compact Sensor to look only at its specific lamp. In this way, Fender can identify exactly which lamp is the source of diminishing UV levels and provide cleaning or other maintenance service, as appropriate.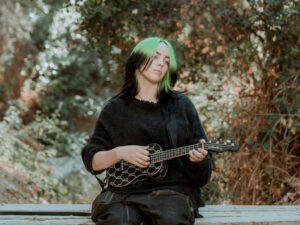 While the online monitoring provided by the Compact Sensors is an excellent tool for gaining early indication of upcoming maintenance needs, the system still needed radiometric baselining to fully characterize the UV performance of the chamber across all UV bands (UVA, UVB, UVC and UVV) as witnessed by a passing guitar. Again, INPRO engineers put pencil to paper and developed a process using an EIT PowerMAP II and a custom fixture affectionately named "Thor's Hammer" to mimic a guitar body being conveyed through the chamber. Thor's Hammer profiles four UV bands (UVA, UVB, UVC and UVV) as well as temperature in six different points around the guitars, thereby giving Fender an accurate picture of the baselined energy and temperature profile of the system and process.
Turn it up to 11
Fender built a short, planned maintenance window into its production schedule to install the UV line. The window was rapidly approaching, and the "UV Band" had to turn up the gain on their amps to install, test and commission the system during this window.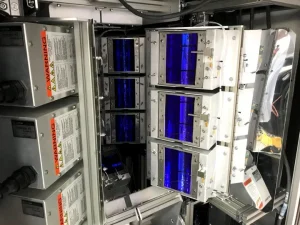 The UV chamber, power rack and controller were assembled and tested at INPRO and then shipped cross-country to Fender. With a persistent focus on facilitating a smooth process transition, the solution was developed so that Fender's existing solvent-based coating process could be run uninterrupted. The UV chamber was designed to slip down over the top of the existing conveyor so that the guitar path was unaffected. In this way, there were minimal impacts to the facility, and the line had the flexibility to run UV and non-UV coatings. The size of some modules pushed the height-width boundaries of buildings and transport options available during COVID-19, but the system was successfully installed over a weekend so that Fender was back to production the following Monday morning.
The dual-cure coating used requires a brief solvent flash-off before the UV cure. With the flash-off conditions upstream of the UV cure, the new Fender-approved process requires an air cure of three hours after coming off the line – a marked improvement over the 24-hour cure that had been in place.
Everything was integrated into a solution that provided Fender with:
A highly serviceable, low-maintenance system to minimize production downtime
Easy-to-use controls and interface, with power consumption monitoring and data logging capability
Flexibility to adjust the lamp positions for different products in the future

 

Real-time monitoring of UV output from each of the 16 lamps to keep maintenance personnel informed
The ability to remotely monitor the system for management oversight and remote troubleshooting
At the time of publication, the UV line has been running for almost 12 months. 
Who is out of tune?
U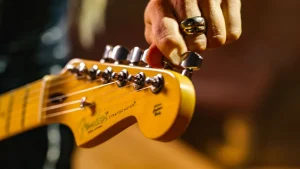 sually, I am the person accused of singing out of tune but for once it was not me or the "UV Band." Located in southern California, Fender has the permits required by the South Coast Air Quality Management District (SCAQMD) for the solvent portion of the manufacturing operation. Adding UV to the process did not increase Fender's solvent emissions. In fact, UV/EB/LED has received recognition by federal and state agencies – including the SCAQMD – as an environmentally friendly technology, and the SCAQMD board has committed to policies that provide incentives including the removal of regulatory barriers and permits for businesses that choose UV/EB/LED processes. 
SCAQMD Rule 219 (Permit Exemptions) is one of the vehicles by which most UV/EB/LED operations are exempted from permit requirements in the South Coast. Fender applied, paid fees and received all required permits for zero added emissions; however, Rule 219 should have exempted the UV operation had it been looked at as a separate source of emissions from the already permitted solvent system.
At the time of printing, RadTech is working with SCAQMD staff to get them in tune with the SCAQMD Board and its policy of promoting environmentally friendly processes. 
Gimme the future
The conversion to UV provided several benefits to Fender that included:
Reduced cycle time
Reclaimed floor space, which in the past was dedicated to the 24-hour air cure

 

Less work in process (WIP) inventory
Fender is considering similar UV systems for other applications and production lines. INPRO continues to work with and support Fender to help develop ideas for ways to extract information vital to maintaining the process. 
Special thanks to Fender Guitars (www.fender.com), the "UV Band" leaders from INPRO Technologies (www.inprotechnologies.com) and the rest of the members (Applied Controls, EIT, Heraeus and Sherwin Williams) for letting us rock on this project! We are ready to get the "UV Band" back together for another gig.