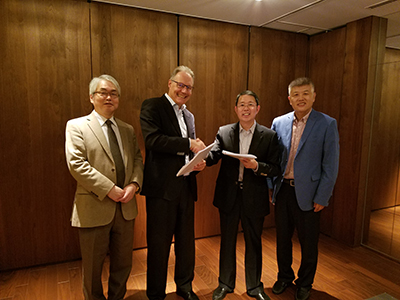 Ulsan, South Korea-based SONGWON Industrial Co., Ltd., recently announced it has entered into a partnership with Disheng Technology Co., Ltd., located in Jiangsu Province, China, for the production of some of its comprehensive range of UVA light stabilizers.
After successfully cooperating for several years, both companies recognized it was time to expand their collaboration and enter into a strategic long-term agreement for a range of SONGWON's UV Absorbers. Disheng is in the process of building a state-of-the-art factory dedicated to light stabilizers in China's Fujian Province to become one of the largest producers of light stabilizers worldwide.
Within the partnership, Disheng will supply SONGWON with a range of its UVAs (SONGSORB® and SONGSORB® CS) for plastics and coatings applications. The products will be sold globally under the SONGWON trademark.
In partnership, the companies will:
• ensure the availability of best-in-class products, processes and EHS practices
• further strengthen SONGWON's supply reliability for this product range thanks to reserved production capacities
• closely cooperate on a technology level for the development of future light stabilizers
"Entering into a partnership with a highly regarded and technically competent company such as Disheng that ensures long-term and reliable access to additional capacity for key products represents a significant step towards realizing our strategic plans going forward," said Maurizio Butti, CEO of SONGWON Industrial Group. "It will not only support long-term growth, but more importantly it will enable SONGWON to continue delivering the sustainable supply reliability our customers expect."
"We are proud to be partnering with SONGWON, who will leverage its global reach and leading position in polymer and coatings stabilizers to market the products, while Disheng will focus on managing the manufacturing side. In this way we can make the best use of both companies' complementary strengths," said Xingping Pan, president of Disheng Group.