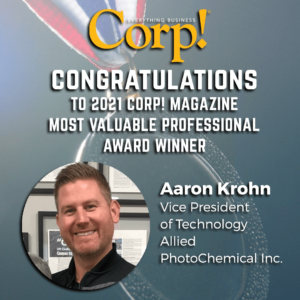 Allied PhotoChemical, Macomb, Michigan, a manufacturer of UV, water and solvent & hybrid coating technologies, has announced that Aaron Krohn, vice president of technology, was chosen as one of Michigan's Most Valuable Professionals by Corp! Magazine. Krohn has been a long-term and valuable member of Allied's management team and leads all technology, applications and R&D development.
Corp! Magazine has taken this concept to the field of business, highlighting Michigan's Most Valuable Professionals, Entrepreneurs and Millennials with an awards presentation and program. MVP honorees are deserving members of the community who are creating job opportunities, driving economic growth, nurturing community advancements or leading successful companies.
For more information, visit www.alliedphotochemical.com.