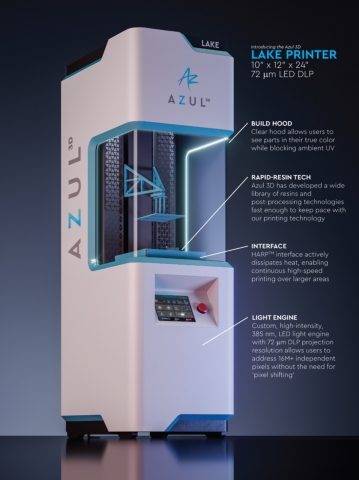 Azul 3D, Skokie, Illinois, has launched its first commercial product: the LAKE printer. Powered by Azul 3D's high-area rapid printing (HARP) technology, a version of stereolithographic printing that converts liquid plastic into solid objects using ultraviolet light, LAKE prints complex geometries at rapid speeds, using proprietary materials suited for a wide range of products. With a print area of 10" by 12" by 24", the printer's unique interface dissipates heat, enabling continuous high-speed printing over large areas. LAKE is powered by a custom, high-intensity LED light engine that allows users to address 16 million independent pixels without the need for "pixel shifting" used by other projectors.
At the outset of the COVID-19 pandemic, Azul 3D used the LAKE printer to print 5,000 face shields in 60 hours for healthcare workers. The LAKE printer is the first in a series of printers that Azul 3D will unveil in the coming years.
The next generation printer, called the SEA, will offer four times the print area, allowing manufacturers to print even bigger parts or products.
For more information, visit www.azul3d.com.