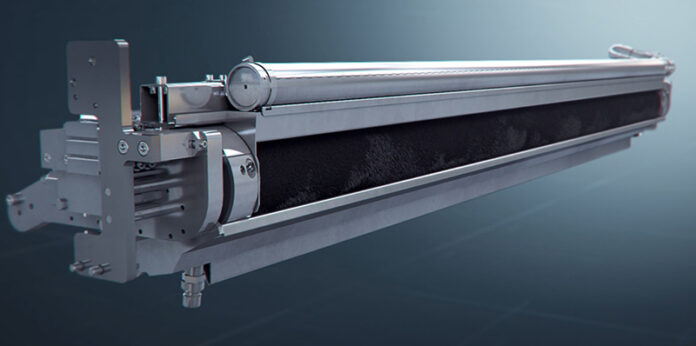 Baldwin Technology Company Inc., St. Louis, Missouri, was scheduled to showcase at SuperCorrExpo in Orlanda, Florida from August 8-12. Anchoring Baldwin's booth was the new ultra-wide FlexoCleanerBrush™ (126 inches/3.2 meters), a fully automated flexo plate-cleaning system.
Attendees learned more about Baldwin's FlexoDry™, an energy-efficient IR (infrared) drying solution, and its LED-UV curing technology, all of which increase print quality and productivity, with operator safety and sustainability in mind. The system automatically removes dust and contamination from the plate in seconds during production, without stopping the press. It also performs full end-of-job plate cleaning and drying in fewer than four minutes, enabling increased uptime and sustainability.
A carbon fiber core keeps the FlexoCleanerBrush to a minimal weight, and ensures cleaning is stable, uniform and consistent throughout the plate's width. Because the system is fully automatic and spans the entire width of the plate cylinder, the FlexoCleanerBrush improves safety by eliminating routine operator contact with the machine, while also reducing the risk of cylinder nip injuries and contact with wash agents.
For more information, visit www.baldwintech.com.