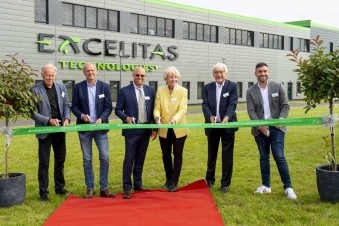 Excelitas Technologies® Corp., Waltham, Massachusetts, has opened a new plant for its German Subsidiary, Qioptiq Photonics GmbH & Co. KG, in Göttingen, Germany.
Excelitas' investment amounted to approximately 25 million euros for facilities and an additional 5 million euros for capital equipment, including a photovoltaic system, an automated material warehouse and an ultrasonic cleaning system that meets the highest cleanliness standards for optical components in the semiconductor industry. The new Excelitas site in Göttingen's Science Park occupies an initial area of 4.5 acres with room for future expansion. The newly constructed production facility offers 72,000 square feet of space, including 16,000 square feet of dedicated Class 5 cleanrooms.
About 90 guests, including members of the German Bundestag, attended the ribbon-cutting ceremony on September 21, 2021.
For more information, visit www.excelitas.com.