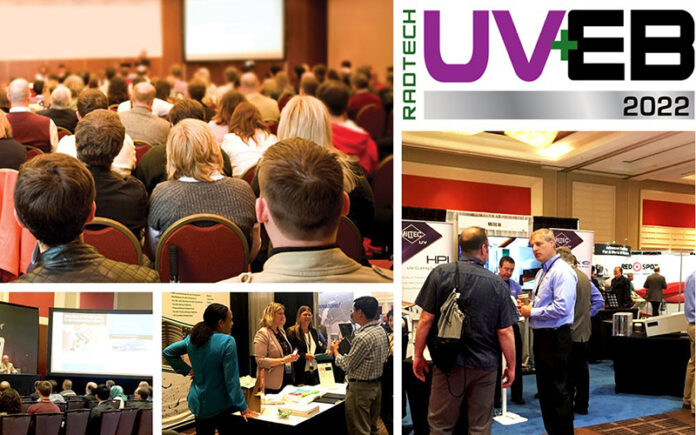 If you haven't reserved your booth space yet for RadTech 2022 UV+EB Technology Expo & Conference taking place May 10-12, 2022, at the Hyatt Regency Orlando in Orlando, Florida, now is the time. More than 80% of the booth space has been reserved.
Space is available on a first come, first serve basis. RadTech has moved to an online exhibit sales platform for RadTech 2022, and companies can review the open floor plan and select booth space – all online.
RadTech members should email Mickey Fortune to get the code so their companies can receive a discount on exhibit fees.
As an added benefit, this new platform also will offer attendees a "virtual" exhibit that will be open months before the live event, giving people the chance to connect with customers in advance.
RadTech would like to thank the association's current exhibitors:
• Aal Chem
• Alberdingk Boley, Inc.
• Allied Photochemical
• allnex
• BCH
• BYK USA
• Chitec Technology Co, Ltd.
• DAICEL CHEMTECH, INC.
• Double Bond Chemical Industries USA, Inc.
• Dymax Oligomers & Coatings
• EIT Instrument Markets
• Energy Sciences, Inc.
• GEW
• Hamamatsu Corporation
• Hampford Research
• Heraeus Noblelight America LLC
• Hybrid Plastics Inc.
• IGM Resins USA
• Integration Technology
• International Light Technologies
• IST America
• Keyland Polymer Material Sciences, LLC
• Miwon North America
• NAGASE Specialty Materials NA LLC
• National Institute of Standards and Technology (NIST)
• Nedap N.V.
• Nichia
• PCT Ebeam and Integration, LLC
• PL Industries, division of Esstech, Inc.
• rad-solutions, llc
• RAHN USA Corporation
• Red Spot Paint & Varnish Co.
• Sartomer Americas
• Siltech Corporation
Reserve exhibit space here.