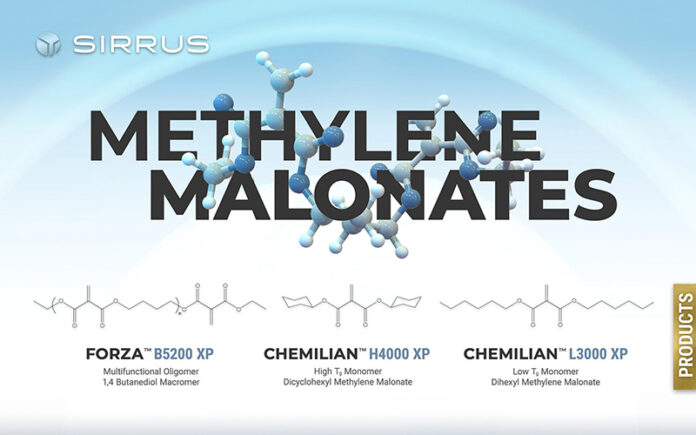 Chemistry company Sirrus, Inc., Loveland, Ohio, has announced a commercial and application development agreement with NAGASE Specialty Materials NA LLC, Itasca, Illinois, a distributor of specialty chemicals and manufacturer of chemical products for various industries, including plastics, packaging, pharmaceuticals and electronics. This agreement focuses on Sirrus's methylene malonate technology with an initial focus on UV cure applications, such as additive manufacturing materials in the US and Israel.
Methylene malonates are novel materials for UV cure offering low odor, color, viscosity and shrinkage. When combined with methacrylates, they have been shown to accelerate and improve cure speed and performance. Methylene malonates, combined with electron-rich compounds, can be cured to make new alternating copolymers that deliver unique performance attributes.
The agreement with NAGASE will expand Sirrus's sales, marketing and application development efforts as it brings new methylene malonate UV cure technologies to market.
As polymer building blocks, methylene malonates are a versatile, electron-deficient monomer platform. Although Sirrus's initial distribution and application development efforts with NAGASE will focus on UV cure materials, other applications for methylene malonates include high-performance coatings, adhesives, sealants and binders.
For more information, visit www.sirruschemistry.com.