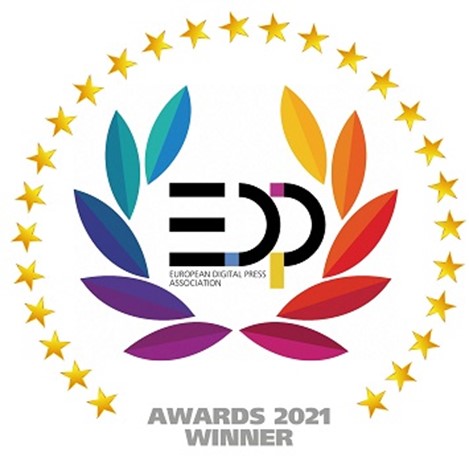 Electronics for Imaging, Inc., Fremont, California, has received two European Digital press (EDP) Awards from the European graphics arts trade press. The EFI™ VUTEk® Q5r roll-to-roll UV LED printer beat competition in the large/wide-format printing systems category for printers above 350-centimeters wide. EDP judges honored EFI Fiery® software integration with finishers as the top solution in the awards program's category for software automation tools.
The EFI VUTEk Q5r printer can run at speeds of up to 7,233 square feet per hour. The 208-inch-wide printer delivers a full system solution from file submission to a finished print with options such as in-line quality inspection, in-line slitting and cutting, roll and tape collection, auto-calibration, automated backlit printing, automated blockout printing and much more.
EFI VUTEk Q series printers, which include both the Q5r and a 138-inch-wide VUTEk Q3r model, are available with up to nine colors including white and clear, and feature EFI UltraDrop™ Technology with native 7-picoliter printheads and multi-drop addressability for high-definition quality. Benefits include smoothness in shadows, gradients and transitions, as well as precise and sharp 3-point size text with a true resolution of up to 1,200 dots per inch.
For more information, visit www.efi.com.