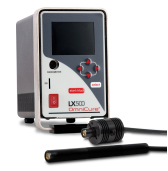 Excelitas Technologies Corp., Waltham, Massachusetts, has introduced its enhanced OmniCure LX500 Controller and V3 UV LED Heads. The upgraded controller and UV LED heads offer optical output and built-in calibration support for efficient, controlled and repeatable UV curing. When used together, the OmniCure LX500 UV LED Spot Curing System delivers optical stability and process control for a variety of medical, electronics and industrial manufacturing applications.
The LX500 V3 UV LED Heads feature optical performance with updated LEDs for spot curing 365 nm, 385 nm, 395 nm and 405 nm wavelengths – all of which offer enhanced output with up to 120% increased optical power and up to 165% increase in peak irradiance compared to its predecessor MAX LED heads. Additional features and benefits of the V3 LED heads include enhanced service life, more uniform spot area and backwards compatibility.
For more information, visit www.excelitas.com.