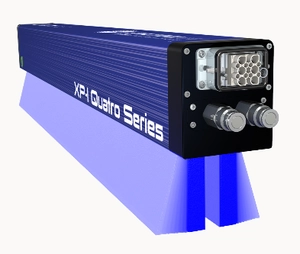 Baldwin's AMS Spectral UV division showcased its line of LED-UV retrofits for the sheet-fed and web offset markets at PRINTING United 2022 at the Las Vegas Convention Center in Las Vegas, Nevada.
"The market remains strong despite all of the global uncertainty, which means our customers have a lot on their minds – be it supply chain uncertainty, constraints, inflation – many macro-economic factors outside of their control. We are excited to be able to welcome people to the Baldwin booth and show how we can eliminate many of those stresses with a broad range of products and innovations that increase automation, productivity, quality and reduce press downtime and waste," said Craig Black, Baldwin vice president of sales.
Baldwin highlighted the patented XP Quatro Series™. This LED-UV curing module is designed to cure printing inks and coatings more economically and efficiently. It is ideal for web offset printers who require a rugged, long-lasting press conversion and are looking to move away from reliance on gas to provide higher-quality product and an eco-friendlier footprint. Also available for sheet-fed offset LED retrofits will be the well-known XP and XO Series LED systems. XP and XO are the industry standard for those competing for accounts that require top-quality results with every run.
For more information, visit www.baldwintech.com.