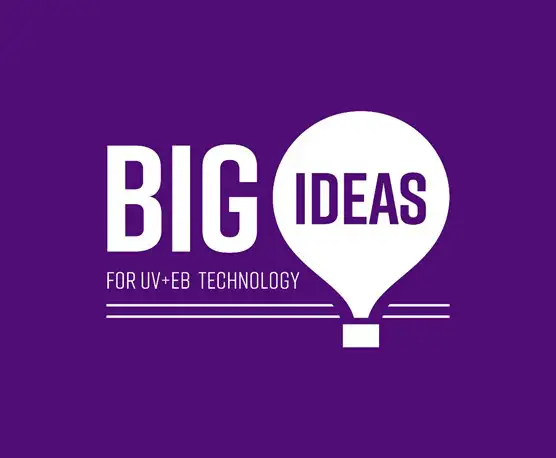 RadTech has announced that registration is open for the BIG IDEAS for UV+EB Technology Conference taking place March 6-8, 2023, in San Diego, California, at the Wyndham San Diego Bayside.
The organization is working to finalize the program for BIG IDEAS and should announce the program in the next few weeks. Here is a sneak preview of some of the sessions and topics.
How the global energy crisis is making UV LED curing the go-to manufacturing solution
UV Cure Bio-Adhesives
Better, Faster, Cheaper, Greener – Material Demands for Photopolymer Additive Manufacturing
Improving Sustainability of UV Solutions with Lower Hazard Raw Materials and Reduced Migration
Battery & Energy Storage Solutions Enabled by UV+EB Technology
Regulatory Landscape for Sustainable Packaging
Moving Beyond Medical – Future Industrial Applications for Photopolymer Additive Manufacturing
BIG IDEAS For Your UV Coating Line
UV-Enabled Moisture-Curing Systems
BIG IDEAS for UV LED
Future of Sustainable Packaging
Carbon Dots
Dielectric Elastomers and Multilayered Actuators Fabricated via UV Curing
More Sustainable Methods for Powering UV Sources
Inherently Reactive Acrylic Polymers
Forum of International RadTech Organizations Discussing Our Shared Future
UV+EB Chemistry Short Course on March 6
BIG IDEAS aims to offer the industry a forum to discuss the future of UV and EB technologies while learning more about the applications and science that will enable developments two years, five years and 10 years down the road. In addition to two days of conference and networking, people also can chat with 40 exhibitors showing attendees the latest raw materials, equipment and formulated products to help you with your BIG IDEAS.
The hotel is located directly across from picturesque San Diego Bay at the Wyndham San Diego Bayside hotel, within easy walking distance of two of the city's most famous neighborhoods, Little Italy and the Gaslamp Quarter. The group rate is $239 if reservations are made before February 20, 2023. Please note that the hotel may fill up before February 20.
For more information, visit https://bigideasconference.com/.
Also, if you have been thinking about exhibiting at BIG IDEAS for UV+EB Technology 2023, reserve your spot now.
RadTech has announced that fewer than 20 table-top exhibit spaces are left and space is available on a first-come, first-serve basis. The organization is using an online platform for exhibit sales where potential exhibitors can review the open floor plan and then select booth space.
RadTech members, please email Mickey Fortune to get the code so to receive a discount on exhibit space. View the current exhibitors at https://bigideasconference.com/exhibitor-list/.
As an added benefit, the exhibits platform also will offer a "virtual" exhibit that will be open months before the live event, giving companies the chance to connect with customers in advance.
To learn more, visit https://bigideasconference.com/exhibit-sales/.