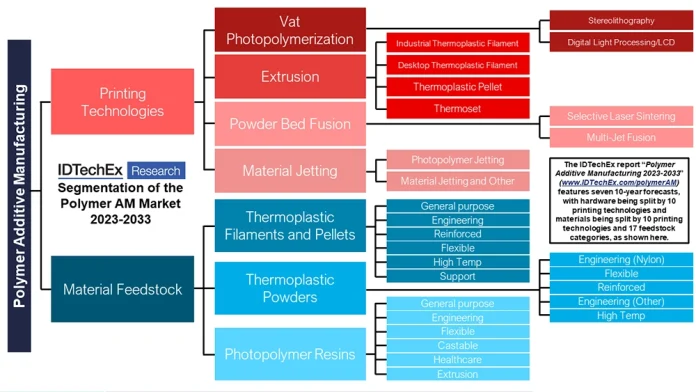 When it comes to history and awareness, polymer additive manufacturing leads the 3D printing industry. The first type of 3D printing to be invented in the 1980s was stereolithography, while thermoplastic filament extrusion holds the most public recognition amongst additive technologies. IDTechEx finds that demand for polymer materials by mass far exceeds that of metal materials for 3D printing.
Actual applications of polymer AM often were restricted to prototyping and one-offs, with the limitations of polymer printing materials and lack of end-user experience preventing more meaningful usage of 3D printing in important sectors. IDTechEx's new report, "Polymer Additive Manufacturing 2023-2033: Technology and Market Outlook," finds that polymer 3D printing is moving beyond prototyping to high-value adoption by end-users, which will propel its growth to $21.1 billion in 2033.
The polymer AM market is finding more end-users integrating AM into their supply chain beyond prototyping and one-offs. Through user interviews, IDTechEx has identified several application areas, such as:
Automotive: While polymer 3D printing is well-cemented in motorsport for quick turnaround of spare parts, it has had less application in high-volume automotive production, partly due to low part throughput when compared with incumbent processes like injection molding. Higher throughput printing technologies like selective laser sintering (SLS) and multi-jet fusion (MJF), which better suit the production volumes needed for automotive, have been utilized for interior automotive components. A recent example is GKN Additive printing 60,000 flexible spoiler closeout seals for General Motors using MJF.
Medical Devices: The prospect of personalized medical devices has long made healthcare a popular target area. One of the greatest 3D printing success stories is the additive manufacturing of customized hearing aids, which Materialise estimates to account for 99% of the hearing aids produced today. Changing FDA regulations for 3D-printed medical devices produced at the point-of-care is lowering a traditional barrier for 3D printing in medicine. Additionally, start-ups like OPT Industries are targeting new medical device applications previously untouched by AM.
Consumer Goods: Since the launch of Adidas' Futurecraft 4D in 2018, shoes featuring 3D-printed midsoles or orthotic insoles have gained the most attention when discussing 3D printing's applications in consumer goods. Polymer 3D printing is finding and expanding into high-value applications outside of footwear. Luxexcel is using a proprietary jetting process to produce lenses, which can be applied in "smart glasses" or augmented/mixed reality devices (AR/MR). Composite printing company AREVO developed the capacity to 3D print 25,000 carbon fiber bicycle frames annually and expanded their product range to scooters and furniture.
For more information, visit www.IDTechEx.com/polymerAM.