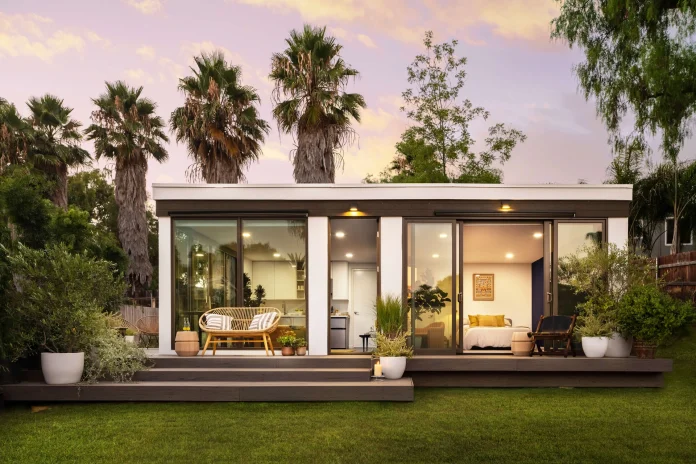 By Liz Stevens, writer, UV+EB Technology
Oakland, California-based construction company Mighty Buildings is a cutting-edge builder using 3D printing, robotics and automation to create stylish, affordable and sustainable factory-built homes. The company's custom-designed 3D printer extrudes a proprietary thermoset composite, which hardens into a lightweight but stone-like material when cured with UV. While COVID-19 and supply chain problems have somewhat delayed Mighty Buildings' forward momentum, the company already has produced and delivered 10 units and is slated to break ground in 2022 on two new multi-unit housing developments.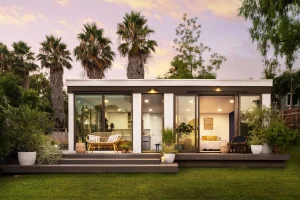 Mighty Buildings uses Light Stone Material (LSM), its proprietary thermoset material, to 3D-print wall panels for accessory dwelling units (granny flats) and single-family homes. The watertight, fire-resistant panels are designed with cavities for foam insulation and, in the future, will include channels for electrical and plumbing lines, truly unblocking building information modeling (BIM). The company's construction factory floor is equipped with a gantry supporting the 20-foot-tall Big G, a custom-designed 3D printer with stereo UV lamps, that builds and cures the panels layer by layer. When printing is complete, foam insulation is added via automation, interior metal supports are added, and plumbing and electrical are consolidated into an MEP core. Robotics are used for milling and painting the unit's exterior, after which HVAC, cabinetry and appliances are installed.
3D, UV, Robotics and Automation in Construction
Sam Ruben, CSO and co-founder of Mighty Buildings, explained that the Big G printer and LSM are the heart of the company's novel construction offerings. "Our core idea really is around the material, the printing technology, the printer and then software that is stacked up onto everything," he said. "The printer's 400 to 405nm UV module is custom-designed, developed by our team and certified by Underwriters' Laboratories (UL)."
The printer module is on a rotating head, with stereo UV lamps. "We designed the rotating UV module and print head to optimize the curing process while also allowing for maximum flexibility in terms of the 3D layers we are laying down," said Ruben. "When the printer is in operation, our workers use protective glasses, and they use gloves when they handle the uncured material."
Mighty Buildings' team of engineers and architects designed 3D printing build patterns for structural strength and efficiency. "Our terrific team of engineers and architects worked closely with regulatory bodies like UL, the International Code Council and others," said Ruben, "to make sure that we were designing our patterns to optimize strength, and to ensure that we did everything necessary to meet code while minimizing the amount of material required."
The team continues to improve and refine the build technique and the thermoset material. "We now are feeding in a continuous fiberglass thread into the interior of each print layer," Ruben said. "That is one of our newest additions. We developed the ability to do continuous fiber reinforcement, in real time, as part of the print process. That allows us to achieve a strength profile similar to reinforced concrete but with a quarter of the weight and four times better insulation." Generative design is another avenue of exploration for Mighty Buildings. "We are looking at tools such as generative design to further minimize materials while maximizing strength," he added.
Material strength and load bearing are at the heart of effective building design. "A lot of that comes down to how the forces interplay with the materials and the fiber in the material, and how load shifting is affected," Ruben explained. "We are not just looking at compressive strength in terms of the weight of the roof and everything pressing down; we also are looking at flexural strength, the need to account for things like wind loads for projects in areas with hurricane impacts. We need to make sure we are designing not just for vertical load but also horizontal and transverse loads."
In addition to adding a fiberglass reinforcement into the thermoset material, Mighty Buildings has designed its printing pattern to deliver the highest structural strength. "This requires balancing the need for strength with optimized printing patterns and the print quality," said Ruben. "In our original build pattern, we had sine waves. In our new pattern, we have eliminated a lot of internal connection points, which mitigates thermal bridging while allowing for improved insulation. Now we are using a box-shaped cavity that allows us to reduce the material used while maintaining superior strength to meet code."
After printing and curing, the building is ready for post-processing. "We use robotic arms to do 3D scans for quality control and to confirm that the 3D-printed object matches the digital file," Ruben said. "We also create a new digital file of the completed physical object, which allows us to create tool paths for the final post-processing, such as milling to create tolerances and to create unique finishes."
To complement the Big G printer and the robotic 3D scanners, Mighty Buildings is working on fully automating the foam insulation step of the construction process and is designing a robotic attachment for spraying on paint, primer, stucco and other finishes. The company also has developed a new factory concept that allows for production of 100 housing units per year in just a 50 x 50 sq. ft. footprint. "In areas of high demand," said Ruben, "we can deploy additional 50 x 50 production cells located near the demand and near available labor."
Appealing to the Younger Generation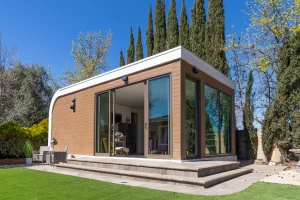 While the company has automated 80% of the construction process, it remains committed to attracting a new generation of workers into the construction industry. As in all American industries, it is difficult to recruit the younger generation to construction. "Many are going into programming, or they are joining the gig economy," said Ruben, "That is one of the big challenges the construction industry is facing. In California, the average age of a general contractor is late 50s, and for every five that retire we get only one new lower-skilled laborer entering the market. We feel that there is a real need for new tools that will allow us to tap the value of that labor while also attracting a new generation of workers, and we believe that we can do that by giving workers a safer, more controlled environment where they work with the latest technologies."
Mighty Buildings offers another draw to the younger generation, whether that be a new generation of construction workers or a new generation of home buyers: sustainability. "We have committed to being carbon neutral by 2028, without offsets," Ruben said. "We are excited to work with our industry partners to identify more sustainable resins and other materials. We see 3D printing as a tool not only for addressing the housing crisis but also as an opportunity to turn construction from a driver of the climate crisis into a solution, given that 40% of all global carbon emissions are tied to the built environment."
He explained that 10% of emissions are due to construction, while 30% of the emissions derive from the actual energy use of buildings, a fact that spurred the company to focus on delivering zero net energy homes. "That is why we are working on achieving carbon neutrality," said Ruben, "and hopefully moving beyond that into carbon negativity by turning our buildings into carbon sinks."
The company has designed its units to be able to be passive-house certified and is in discussions with Leadership in Energy and Environmental Design (LEED) and other sustainability certification organizations to explore which are of most interest to customers and where Mighty Buildings might find the best certification fit.
What's Next
While Mighty Buildings has not suffered dramatically from the COVID-19-spawned supply chain problems, big delays have ensued in the permitting process, putting anticipated new installations on hold. "We have a number of housing units on our factory floor, ready to go out once the permits come through from cities that still are working through their backlogs," Ruben said. "We are on track to break ground on multiple developments next year in California's Coachella Valley, which will be a combination of single-family homes and accessory dwelling units. Between the two projects there are 111 lots; 222 units across multiple phases."
The company also is working on deploying joint venture factories with builder-developer partners in states beyond California and is looking at international expansion. "With all of this," said Ruben, "we are on track to deliver thousands of units over the coming years."
Mighty Buildings was the recipient of a 2021 RadTech RadLaunch award. For more information, visit www.mightybuildings.com.