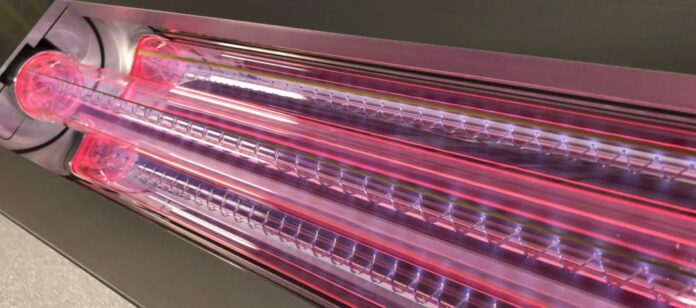 UK-based GEW, a manufacturer of arc and UV LED curing systems for printing, coating and converting applications, has announced the launch of its EXC Excimer UV lamp system. EXC utilizes dielectric barrier discharge (DBD) lamps to produce quasi-monochromatic vacuum ultraviolet radiation, typically at 172 nm. This radiation is commonly used for mattification of surface coatings where the elimination of matting agents can significantly improve stain resistance and durability of the final product. Gloss levels down to 2 GU can be achieved easily, and the extremely high efficiency lamps require only 5 W/cm input power. Instant on/off switching enables customers to switch between high gloss (80 GU or higher) and matt finish products in seconds.
Other applications include modification of surface tension for improved adhesion or surface cleaning for semiconductor and medical industries.
GEW Excimer lamps can be produced in widths from 12 cm up to 230 cm and at up to 30 mW/cm2 peak irradiance, the GEW system is one of the most powerful systems available worldwide. 222 nm and 308 nm variants are available and lamps can be custom integrated to the customer's specific application, including provision for all required nitrogen inerting and control. They can also be seamlessly integrated into the wider GEW UV systems which may be required for pre-gelling and post-cure, so that GEW can provide a turnkey curing or cleaning solution for any process.
For more information, visit https://www.gewuv.com.