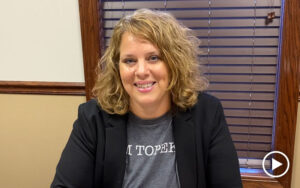 Hello, everyone! It's going to be 97 degrees in Topeka today, but I'm declaring it the first week of fall! My kids went back to school today, and I got my first pumpkin spice latte of the season.
I have three daughters – an 8th grader, a junior in high school and a first-year grad student. I'm going to give all of you the same mom lecture I gave my girls this morning as the younger two went out the door.
I told them to be proud. Be proud of the bravery it's taking to put on a mask and go to a school environment that doesn't look like normal school anymore. I reminded them to be proud and grateful to the teachers and administrators who have completely revamped the traditional teaching models to accommodate this new hybrid environment. I want them to be proud of the custodians and the coaches and the lunchroom staff, because everything has changed in the last six months.
And – and here's the mom part – you should be proud, too. Almost six months ago, many of us were in Orlando at RadTech 2020. Since then, UV technology has come into the spotlight in a big way, whether it's being used in disinfection scenarios, in increased medical equipment production, in lamination processes for restaurant menus… the list goes on. Not only are you navigating work scenarios that are probably less than ideal – I'm finally back in the office after several weeks at home – but the work you're doing in the industry is directly impacting people as we get through this pandemic.
So, be proud. Keep working hard. And just think of the stories you'll be able to tell when we all get back together.
Have a great day, everyone. And, as always, let us know if we can support your businesses in any way.